If a new car is not in your budget, or you have found the need for a second car, a quality used car offers you a way to fit your needs at a price that can be significantly less than a new car. With the availability of extended warranties and factory certified used cars, you can also enjoy many of the benefits of a new car without paying the new car price. With so many used cars out there, it can be hard to choose one without doing your homework. The following list contains eight top used vehicles from compact to luxury to give you a head start on your shopping assignment.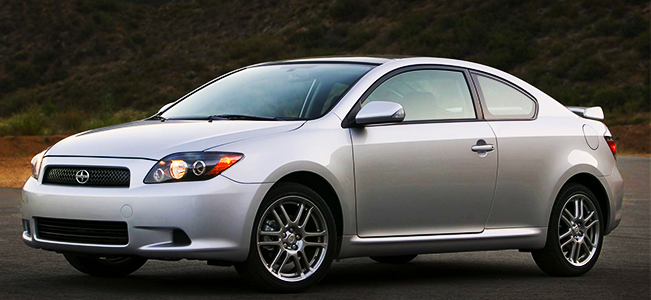 2009 Scion tC
If you have a small budget but do not want to settle for a stripped down compact car, the 2009 Scion tC is a smart choice. The Scion tC is sporty, surprisingly spacious and has an abundance of standard features, more than many others in its class. While it was available in only one trim, Scion does do a nice job of offering a large variety of available options including upgraded audio systems and touchscreen navigation. The Scion tC also has something most other cars in its class do not have and that is cargo room. The 2009 tC has 12.8 cubic feet of cargo room, nearly as much as cars one class up. The Scion tC also has more horsepower than most of its competition and while it does take fuel economy down a bit, it does not feel like you are driving a small car that can be had in most cases for under $10,000.
2009 Honda Accord
The 2009 Honda Accord offers performance, power, safety, and quality all in one affordable used car. With the average price ranging from around $11,000 for a base model to just over $15,000 for the top-of-the line V6 with leather, the Accord offers a lot of value for your dollar. It also comes with an impressive list of standard features that vary by trim that include leather upholstery, a sunroof, dual zone climate control and an upgraded multi-CD audio system. It is also highly rated when it comes to safety with six airbags, ABS, and stability and traction control. While the Accord does not offer as much trunk space as some of its competition, there is ample rear passenger room for three average size adults. Fuel-economy is also a bonus thanks to its variable-valve timing with and EPA rating of 22 mpg city/31 highway.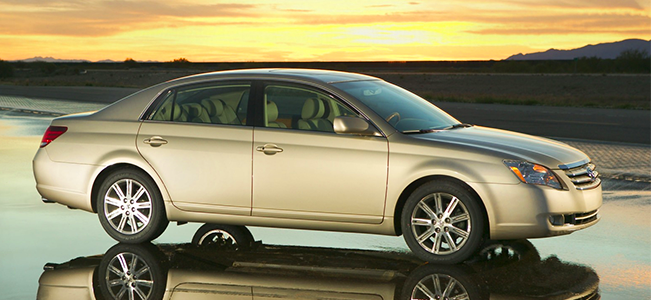 2009 Toyota Avalon
The 2009 Toyota Avalon gives you luxury, passenger room, and reliability at a great value. Toyota has a long history of building reliable, quality cars and its flagship Avalon is no exception. The quality and value of the 2009 Toyota Avalon was so impressive it received the title of Best Large Car for the Money by U.S. News. With abundant standard features that include a power driver seat, dual-zone automatic climate control, premium audio system, electronic stability control, reclining rear seats, and a long list of available luxury options, the Avalon gives you a lot for a smaller price. Powered by a 3.5-liter V6, the Avalon also has impressive horsepower with the bonus of excellent fuel economy for its class. With a fully equipped 2009 Toyota Avalon available for around $17,000, it is definitely a smart choice if you are looking for passenger room and luxury.
2010 Ford Mustang
For those that want a muscle car with a lower used price tag, nothing says power and performance like a 2010 Ford Mustang. For over 50 years, the Mustang has stood as an American icon and whether it is new or used, there is nothing quite like owning one. The 2010 Ford Mustang features a redesigned cabin that offers a more driver-friendly experience and is available in a number of configurations from a V6 with a manual transmission to a powerful V8 with a choice of automatic or manual transmission. Standard features include front sport bucket seats, CD audio system, power windows and locks plus a number of options including an upgrade to leather seating, infotainment system with navigation, glass roof and rear vision camera. While it is a sports car, the Mustang goes offer something other cars in its class does not and that is trunk space. With 13.4 cubic feet of cargo room, it really is a "grocery-getter." With fuel-economy in the average range for its class, the Ford Mustang still offers a great car that is fun to drive and can be had for around $22,000 for the base V6 model up to around $37,000 for a fully-loaded high-performance V8.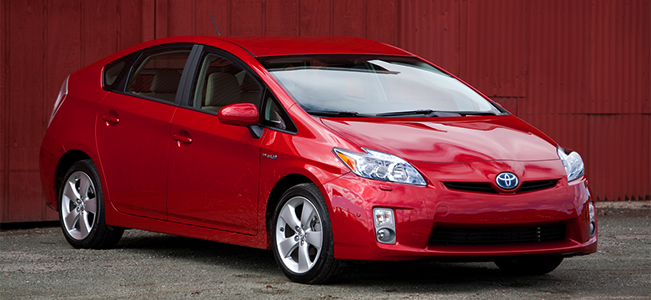 2010 Toyota Prius
If you are looking for a used car that will get you the most fuel economy for your money, the 2010 Toyota Prius hybrid is a great choice. The Prius may not be the most flashy used car around, but if you spend a lot of time on the road, it is the fuel savings that will make it most attractive. The Prius also offers a roomy cabin and a large amount of cargo space for a vehicle its size. Standard features that vary by trim include push button start, Bluetooth, leather heated front seats, navigation, and an upgraded audio system. Powered by a fuel-efficient four-cylinder engine paired with dual electric motors and a continuously variable transmission, the Prius offers fuel economy of 51 mpg city/48 highway. As far as pricing, a 2010 Toyota Prius sells for around $15,000, much less than the price tag of any brand new hybrid, with the same fuel saving potential.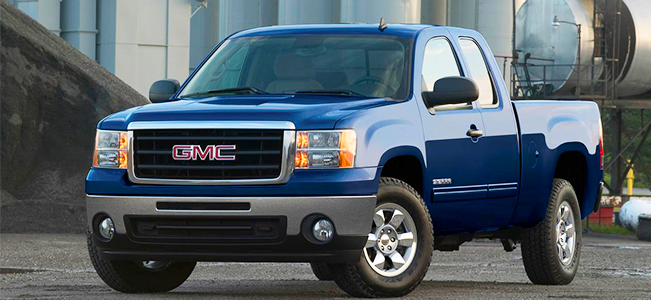 2011 GMC Sierra 1500
As pickup trucks have evolved, their price has continued to grow as well. If you are looking for a full-size pickup at a savings, the 2011 GMC Sierra 1500 is one of the most versatile and capable used trucks you can buy. With a variety of engine sizes, cab styles and trim levels, the Sierra 1500 offers everything from a basic work truck to a well-appointed luxury truck that makes even long trips a pleasure. While standard features for the basic 2011 GMC Sierra 1500 are somewhat limited, the list of available features is quite long. The basic work truck gives you a choice of cab sizes, CD player, and air conditioning. Moving up through the trim levels standard features and options include leather upholstery, premium audio systems, heated power front bucket seats, a sunroof and a variety of driver assist features. With a price range of around $14,500 for the base version up to around $35,000 for a full-loaded crew cab V8, the 2011 GMC Sierra will give you everything you want and need in a full-size truck, except the high price tag.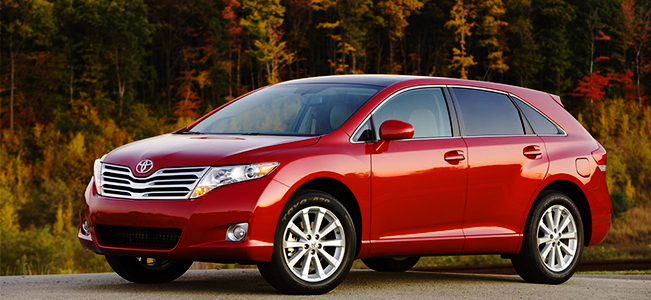 2010 Toyota Venza
There is no doubt that the SUV is one of the most popular vehicles on the road today. If you are looking for a family-friendly yet budget-friendly crossover SUV, the 2010 Toyota Venza is worth a closer look. The 2010 Venza seats five comfortably and offers an ample amount of cargo room while still giving you the driving response and handling of a large sedan. The Venza also ranks high in fuel-economy whether you choose one powered by the standard four-cylinder engine or upgrade to one with the 268-horsepower V6 engine. While the 2010 Venza is only offered in one trim level, Toyota has appointed it quite well. Standard features include dual-zone climate control, power driver's seat, mobile phone connectivity, six-speaker audio system, and satellite radio. The 2010 Venza also offers a choice of front- or all-wheel-drive. Prices for a used 2010 Toyota Venza ranges from around $16,500 for the standard equipped version to approximately $20,000 for a Venza loaded with available options such as leather upholstery and navigation.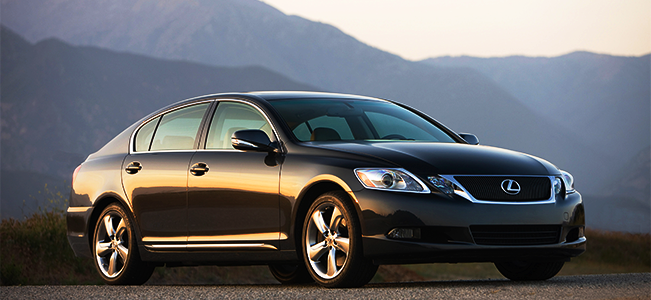 2010 Lexus GS
If you are looking for a large luxury car on a budget more suited for a small sedan, consider the 2010 Lexus GS as your next car. Available in a GS 350 with a V6, a GS 460 with a V8 or in a hybrid version, the Lexus GS offers an engine option that fits your driving habits. It is also available with all-wheel-drive for better handling in inclement weather, but for better fuel economy, the rear-wheel-drive is the better choice. The GS is spacious but not as spacious as it could be for taller passengers, however, what it lacks in extra legroom it definitely makes up for in luxury appointments. Standard features include premium leather upholstery, power seats, dual-zone climate control, and a very upscale interior look. The 2010 Lexus GS also has a variety of available options that include navigation, rear vision camera, adaptive cruise control, ventilated front seats, and a premium audio system. With a Lexus GS priced at upwards of $45,000 new, a used 2010 Lexus GS ranges in price from $22,000 to $25,000, giving you a luxury car at a small car price.
Shopping for a used car does not have to be overwhelming. Start with a budget range, determine what size vehicle fits your needs, and then do your homework. The eight vehicles we chose run from compact to luxury with a price tag of under $10,000 to around $25,000, the typical price range of those shopping for a quality used car. Our choices were also based on value, reliability, safety, and fuel-economy, four more points that are very important to consider when shopping for a used vehicle. A good used car can offer you all the style, amenities, and fuel economy of a new car all at a substantially lower price. We hope that we have helped you in your search for a used car and maybe one our suggestions will be your perfect next "new-to-you" used vehicle.