With a pretty much unlimited inventory, it can be hard to narrow down what type of used or pre-owned vehicle is going to get you the most bang for your buck. Below you will find our list of the top 10 used cars available to you.
1.) '05 Honda Pilot:
The earlier Honda Pilots set the standard for comfort when it comes to larger SUV's; both in the interior and in the drive quality. This car drives well, and even better, it smoothly transitions to all kinds of terrain. Ideal for active families, it comfortably seats 5 people, with three seats that fold down in the trunk space for a total of 8 seats. This make and model also has great visibility and  towing capabilities!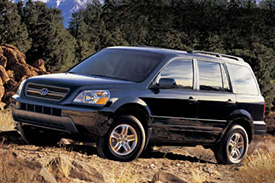 2.) '06-'07 Infiniti G35:
For a new and used car alike, the Infiniti G35 boasts some impressive stats. With a 3.5 liter V-6 engine and dual path intake, this car has a smooth drive and excellent stability control. It has a stylish exterior that ages well, with an equally as nice interior. Six airbags are standard, making it a safe option for any driver.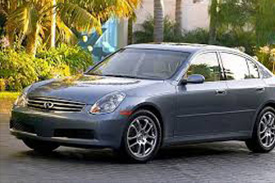 3.) '07-'08 Lexus ES:
Lexus has long been known for offering affordable luxury, and the ES is no different. With a drive that is smooth and reliable, and a 272 horsepower engine, this car combines the best of all worlds. With SmartAccess keyless entry, one of the highest safety ratings possible, and room enough to accommodate an average 2 parent 3 child family, it's an excellent option for a wide variety of buyers.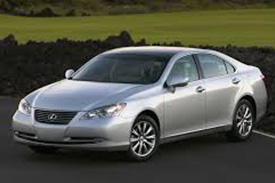 4.) '08 Mazda 3:
Among car fanatics, Mazda's have started to emerge as a new favorite, mainly because they are so fun to drive. With a 2.3 liter and 263 horse power engine, this is a car that can talk the talk and walk the walk. The '08 boasts upgraded safety features, and it's clear Mazda put a lot of effort into making this car great. The styling is understated, yet attractive, and the model has an impressive array of standard and optional features, which means you can customize it to your liking!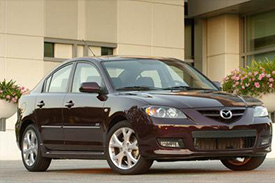 5.) '08-'12 Honda Accord:
The Honda Accord has long been seen as the stereotypical used car, and jokes, aside, there's a reason for that. Honda is widely known for their reliability, and because their cars last so long, they are an ideal option for someone looking for a pre-owned vehicle. It offers a comfortable ride, plenty of room, and 3.5 liter V-6 engine. When it comes to all around quality at a good price, the Honda Accord is the best bet!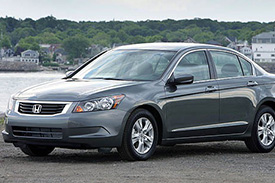 6.) '09-'11 Toyota Rav 4:
If you're looking for a smaller sized SUV that fits a fairly active lifestyle, then look no further. With a 4 cylinder engine and plenty of room for passengers, this is an ideal road trip car. The Rav 4 also features Toyota's Hill Start Assist Control, Downhill Assist Control, and a comprehensive StarSafety program. This would definitely be a great option for someone looking to make the move from a compact to an SUV.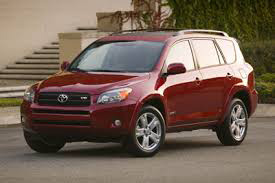 7.) '10 Subaru Impreza:
This car is certainly small yet mighty. While it definitely falls in the compact category, it has the power and engine of a much bigger car, with both 4 wheel drive and a turbo charged engine 2.5 GT engine. The 2010 Impreza also has impressive safety ratings; including 5 stars for frontal crash protection and 5 stars for side protection, making this car is a surprisingly smart buy for someone looking for a versatile ride.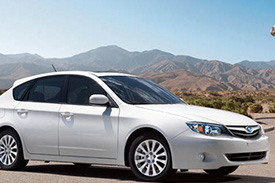 8.) '10-'12 Toyota Camry Hybrid:
It's hard to put a price on Toyota dependability, because any car that they make will definitely have lasting power. The 2010 redesign of the Camry did a lot for Toyota's brand, and it shortly became one of their most popular cars. With an electric motor and continuously variable transmission, 7 air-bags, and anti-lock brakes, you definitely get your money's worth. While this model is excellent in both hybrid and non-hybrid options, if you're looking to save on gas and go green, this is one of the best hybrid options on the market!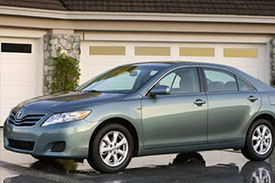 9.) '11-'12 Nissan Murano:
The handling on the Nissan Murano is truly one of the best in its class. With continuously variable transmission and a 260 horsepower V-6 engine, it doesn't get much smoother. For a compact, it's pretty roomy and has an impressive 64.5 ft of cargo space. Finally, the IIHS gives it the highest possible safety rating, making it a great option for families and car fanatics alike.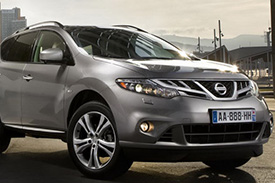 10.) '13-'14 Hyundai Elantra: 
Hyundai is largely underrated, but the '13-'14 Elantra is nothing to scoff at. It is equal parts fun and practical to drive, and boasts an impressive 38 MPG on the highway. It's interior is home to the latest technical features, including driver selectable steering mode. With plenty of cargo space, it's the ideal for a buyer looking for a new car experience at a used car price.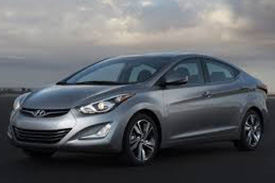 Let EveryAuto find the perfect used car for you: Used Car Search Here